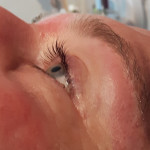 The Lashologist is the destination for cosmetic eyelash and eye brow maintenance, we provide a fully consultative service with a free pre-treatment consultation on your first visit.
Our clinic offers a full range of eyelash and eyebrow cosmetic services whilst our aesthetic cosmetic medicine colleagues have a comprehensive list of wrinkle reduction injections, skin rejuvenation, peel treatments and thread vein removal. We can also provide you with hair and nail maintenance services with our business partners too.
Treatments with the Lashologist:-
Eyelash lift – £30
Eyelash tint – £12
Eyebrow shape – £10
Eyebrow tint – £6
Eyebrow trim – £6
Eyelash shampooing (pre treatment cleansing) – £20
Eyelash and eyebrow tint – 15
Eyelash tint, eyebrow tint and trim package – £20
Eyelash lift and tint package – £38
FREE initial consultation
Men's grooming treatments with our colleagues and partners:-
Aesthetic cosmetics; i.e. Botox, dermal fillers, PDO threading lift, peel treatments – FREE initial consultation
Hair maintenance; cuts, style and colour
Wet shaves
Nail care for hands and feet
Sports and remedial massages
Contact us for prices and details for above.