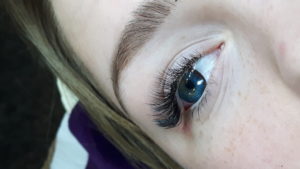 What are eyelash extensions? Here's a little eyelash extension information – Eyelash extensions are made of a synthetic material naturally curled to imitate your natural lashes.  Their purpose is to create the look of thicker, fuller and longer eyelashes.
Taking a little information from Wikipedia, the Korean's created the single lash application technique in 2004 and the beauty treatment has gained popularity world-wide.
A set of new eyelash extensions can cost anywhere from £30 to £150 plus in the UK, depending on the type and number of lashes used,  and the skill of the technician.  The process usually takes 1 1/2 hours to 2 hours to attach a full new set (individual false eyelash to natural eyelash) and an average application per person varies from thirty to eighty lashes per eye.   In-fills are recommended every 2 to 3 weeks.
The synthetic lashes come in several size lengths from 6mm to 15mm and come in various thicknesses; standard 0.25 or fine/Mink type 0.07.  Coloured synthetic eyelashes are available in colours ranging from red, purple, green and yellow –  They add a little funkyness when applied randomly into existing eyelash extensions.  Two types of lash curl are available; C curl (has more of a curl at the end) or J curl(more of a natural curl).
There are several process you can have at various costs.  For those wishing to try out the effect before going in for the full set of lash-to-lash extensions, there is the express eyelash extensions.  Approximately 30 individual lashes or 10 cluster lashes are applied to the top of natural lashes.  Time taken for this process is approximately 30 minutes.  They can last up to 2 weeks, so they are ideal for holidays.
Full set of eyelash extensions that are applied to every natural eyelash and can take up to 2 hours for the application.   The extensions last up to 3 to 4 weeks before a in-fills are required to fill in any gaps.
Or to keep for those who like a less fuller look, a half set of eyelash extensions or lash flicks are applied to every other eyelash. This process takes up to 1 hour, and like the full eyelash set last up to 3 to 4 weeks.
Please note:  an allergy patch test must be done 48-hours prior to treatment to ensure that you are not allergic to the glue used.
Eyelash extension aftercare is important, as it is the key to longevity of the extensions, so:-
after application of the lashes do not allow water to contact the eyes.
do not steam face, use steam bath, swim or wash face with hot water within two days of application.
do not perm or curl lashes.
eyelash tinting must be done prior to lash application.
do not use waterproof mascara or mascara remover on lashes.
do not rub eyes when washing face.
always pat dry lashes after eashing or cleansing.
do not use any make-up remover near eyes.
Please note: It is important to ensure that you maintain eye hygiene especially around the lid area. A mild cleansing solution e.g. diluted baby shampoo or a non oily makeup remover should be used to clean the area on a regular basis.  If you find that you are experiencing redness, irritation or flaking around the lid, please make an appointment for consultation.