Allergy testing – best practice guide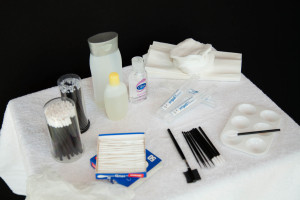 Here's food for thought:
"There has been a rise in the number of personal injury  claims, largely I expect because there is more advertising of the procedures available, more take up, and in a largely unregulated industry people aren't applying best practices."  
This information is according to non-practising legal advisor at 1st Claims, a firm of solicitors who deal with personal injury claims associated with the hair and beauty industry. Unfortunately, they couldn't substantiate the percentage rise, or those treatments that triggered the claims.  However, this without the actual supporting figures is troubling, as a statement of this kind by a legal company clearly means that the standard of practice in our industry is lacking in the basic understanding of a best practice policy when it comes to client health and safety.  Poor standards leaves the client and the practitioner in a vulnerable position.
Obviously, no one wants a problem to occur, but the reality is that they happen, so this has to be the time to take a look at your business and ask the question as to how well you are protecting your business.  For example, even if you consider yourself protected if a client refuses an allergy test, this will not be exempt from a personal injury claim even if they sign a form, as it is impossible to avoid a claim for personal injury under the UNFAIR CONTRACT ACT.   If you think that your insurance policy will cover you for the claim then think again, as the insurer will refuse the claim as you didn't obtain a required allergy test before treatment.
Protect your business
A business should have its own operating guidelines in place by following an industry Best Practice policy. This includes mobile sole-traders as well as static salons. However, all businesses face similar issues when it comes to client consultation forms, so here's some advice from 1st Claims as a bench mark for inclusion in your businesses operation procedures.
"It is vital that you document all of your advice, including a sheet for each and every client, and that you should follow best practices within your industry, especially if this includes providing allergy testing which seems, vital as allergies will be the cause of many claims."
Be customer focused and explain to the client that your business is putting their health and safety first and that the initial treatment requires a quick allergy test.  If you consider that you might be turning away business if you disregard a client's refusal for a test, just remember that you could be put in a vulnerable position at a later date.
So what products need an allergy patch test?  Those products that clearly state on the manufacturer's instructions that an allergy test is required and how these should be executed.   If the initial client consultation alerts you to an allergy to a certain product, for example; wheat products allergies (wheatgerm is an ingredient of some massage oils), then these should be avoided and an alternative sourced for a later appointment.   Ensuring that the product used for waxing treatments isn't at a temperature that will not scaled your client.   Making sure that the sanitation of your tools and equipment is done after every client. These are some of the preventative ways that you can protect your client and yourself from a nasty situation.
Keep well be safe.
Jane:)