Hypersensitivity to products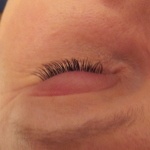 Occasionally I will be told by a client that there's no need for an initial consultation or an allergy patch test as they have had treatments for lashes and brows before elsewhere and have had no problems.  The person is disappointed and sometimes gets a little irritated that I will not do a treatment without a consultation and a patch test being done.  As a business woman I of course dislike to turn away business, but as a professional I will not jeopardise a persons health or my credibility to take such an unprofessional risk.
Since I have been practicing eyelash cosmetics I have seen many clients who have come to me with eyelash extension jobs that have resulted in contact allergy, bletharitis and bacterial conjunctivitis.   The reasons for these medical conditions are usually because the client has not received a full or any initial consultation to ascertain if they are able to have the treatment and no product patch test has been done. Other factors are poor basic hygiene procedures and bad aftercare advice whereby eyelid and lash line hygiene has not been advised or dismissed. The reason to ensure that you are medically fit to have an eyelash or eyebrow treatment is because some people might have a medical condition of the eye such as, glaucoma, retinal diabetes, dry eye syndrome and they might also be hypersensitive to chemicals. Forms of hypersensitivity reactions are either seasonal conjunctivitis which is pollen related, perennial conjunctivitis an allergy to animal hair or dust mites, giant papillary conjunctivitis a condition associated with contact lense use and contact dermatoconjunctivitis which is a reaction to products, such as eye drops, make-up and eyelash extension adhesives.
Hypersensitivity reaction to a particular chemical is caused by the body releasing histamine which is a compound involved in local immune response. Hypersensitivity displays intense itching, a sensation of burning, a grittiness in the eyes, redness and swelling.  It can usually be suppressed by an anti-histamine and immediate removal of the lashes with a saline wash-out after is advised.  If there is no ease from the reaction I strongly advise that immediate medical attention be sort.
For new clients who want to have any eyelash or eyebrow treatments, I will require information from you regarding medical conditions related to the eye, to skin sensitivity i.e. eczema at the time of your initial enquiry. You will be asked to have an allergy patch test and a free consultation prior to the treatment appointment and you will be required to complete and sign a medical consent form on the day of your treatment. If you are an existing client I will want to know if you have any changes in your medical history, and for those of you who have taken 12 months plus without any eyelash or eyebrow treatment I advise that you have an allergy patch test prior to new treatment. I offer free consultation for eyelash extensions, eyelash lifts and eyebrow extensions. I require a patch test be completed at least 48-hours prior to treatment for eyelash extensions, eyelash lifts/perms, eyebrow extensions, eyelash tints, eyebrow tints.      
Jane:)