Why you need to a take a break from your lash extensions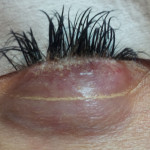 One of my clients popped into the salon a couple of days before her booked eyelash extensions removal, concerned that she wasn't doing the right thing by having them removed and wanting a second opinion.   It's such a big decision to have those lashes removed to revert back to your natural lashes, as it is without doubt a huge shock for long -term wearers.   If I was in it for the money I could have easily said 'well let's keep in-filling them or remove and replace with a new set',  this would not have been a helpful suggestion for both parties.
Long-term wear of synthetic lashes do have risks, especially when it comes to the condition of the natural lashes, as they do suffer from lash trauma by becoming shorter, thinner and weaker, and in some cases total loss of natural lashes can occur.  There is also the threat of eye medical problems such as conjunctivitis and the long-term problem of Bletharitis, which could mean that any future wear of lash extensions is no longer a consideration.   To ensure natural lashes recover from constant eyelash extension use, eyelash extensions should be removed every six to eight months to allow the eyelid line to be thoroughly cleansed after the months of make-up build-up and bacteria, and also for the natural lashes to grow and thicken.  We recommend a minimum of two months rest from eyelash extensions to allow natural lashes to recover and for full regrowth.
Another factor with the problem some might have with natural eyelash weakening after eyelash extension wear ,can be linked with the dimension and length of the extension, as  the heavier the glue loaded extension on the natural lash the more likely the hair will break, so it is advisable to get advice from the expert before asking for the longest and thickest eyelash extensions available, as your poor eyelashes might not be able to take this for long periods of time.
What can you do while your natural lashes are convalescing? The advice and options I give to my clients after extension removal is  try not to have eyelash extensions for at least two months, and to alleviate the loss of eyelash extensions I suggest eyelash lift and tint( tinting after the lift ).   Or you could try eyelash growth serums. There are many eyelash growth serums on the market and these can be bought online or from the likes of Boots and some large department stores. However, do remember to read the labelling as some lash serums are not suitable for the health of the eye (refer to lash serum blog). A recent article from the Daily Mail outlines the problems with some eyelash growth serums.  Here's the link http://www.dailymail.co.uk/health/article-3016092/Did-drug-make-lashes-lusher-turn-green-eyes-brown-LEAH-HARDY-investigates-disturbing-effect-treatment-backed-stars-Claire-Danes-Brooke-Shields.html
There's lots of pre-made eyelash conditioning serums (not to be confused with eyelash growth serums) on the market, but you can make your own from simple ingredients, here's my homemade version:
Take a small clean bottle and pour in a teaspoon of castor oil, coconut oil, olive oil and vitamin E oil. Shake up and seal with cap. When you want to use the serum, get a mascara wand, dip into bottle and stroke the ingredients on to the lashes not loading the brush with too much. The other option is to dab some solution onto a clean finger and massage into the eyelid and lash line.
All the above ingredients can be bought from Holland and Barrett and what you don't use in the making of your eyelash serum you can use on the rest of your body, face and the coconut oil can be used in your cooking.
Jane 🙂