Disappointment of low quality lasts longer than happiness of a low price!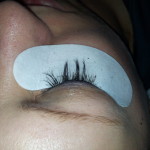 When I get a day off there's nothing I like than bimbling around the shops in my home town of Norwich, and I find the likes of Poundland, 99p Saver, Poundworld a big money saving attraction, as many of us do. There are many well-known brands at knock down prices to choose from so it doesn't hurt the purse if you splash out on an item or product you wouldn't normally consider purchasing. With the need to cut back on spending we look to these bargain stores who can supply us with known brands and alternatives products, but we all know that these goods have been bought as a job lot because they are nearing their sell or use by date, or they are goods that no one would normally purchase, so rather than being dumped by the producer they are sold on to sell-on.
The service industry unlike the product retail industry is very different as you are not guaranteed the brand trust of say a jar of Branston Pickle bought at Poundland to that of an eyelash extension job done by a mobile beautician for £10 selected from Gumtree.   If you have never had a beauty treatment before or you are on a very limited budget how do you know what you are booking is good enough?  Do you know that the person you are booking is qualified, insured, uses tested products, knows about basic hygiene standards?  Just because it says beautician, hairstylist it doesn't have any guarantee of quality attached to that professional name.  With the increase of girls training as beauticians growing rapidly, so has poor quality and standards, as in some cases it's all about making quick money rather than offering a quality and safe service.  I have seen my local high street change from offering just one nail bar to four beauty salons all offering the same treatments at different prices and with daily knock-down promotions. This is of course a great incentive for the buyer to purchase cheap prices, but is the buyer getting a quality and most of all a safe service? Trader price wars are not always good for the consumer.
So, what can you do to ensure you make the right choice of beauty therapist? Here are a few tips to help you make your choice:-
1)      Referrals are my best suggestion. So ask your friends, work colleagues who they use and look at the work that they have done.
2)      Check out testimonials on the professional's websites and social media sites.  You should get a good indication of the quality of work from images and client comments.
3)      Groupon is an excellent way to trial out a hair and beauty service. I have been informed by my local Groupon representative that they will vet the trader before contracting them and will look for any indication that the product or service might not hold up to Groupon's trading standards.  If the service gets bad feedback from the consumer after the promotion Groupon doesn't work with that business again.
4)      Visit salons. Popping into the local salons and picking up salon prices list will give you an opportunity to see how the salon looks, how clean it looks, the professionalism and friendliness of the staff.   If it looks tatty and unclean and the staff have a bad attitude and don't care, then you will know that even if the price is cheap you may not be in safe hands.
5)      If you choose a mobile then request to have a quick meet up before you book. You can't be sure who you are inviting into your home.
6)      Check credentials. Ask to see beauty certificates and insurance documents. Remember, if the therapist is not insured they have no cover for any personal injury caused to you. If they're not insured then they are usually not qualified to practice.
7)      Use the website to search the beauty salons or the beautician's name and location. If there are going to be bad comments and reviews made,  web browsing will usually bring them up.
8)      Ensure that your are given an in depth pre treatment consultation as well as allergy patch tests for treatments such as eyelash extensions, eyelash and brow tints, eyelash perms and lift and any hair colours. I you are able to make an appointment for any of these treatments without a consultation and a test then you are not in safe hands.
9)      You should be given a medical consultation form to complete prior to treatment as part of your pre treatment consultation.  A professional will want to know if you have any medical conditions or problems to discuss the pro or cons of having a particular chosen treatment.
10)      Finally, and most importantly, 'IF IT AIN'T BROKE, WHY FIX IT?' If you have been satisfied with a professional that has provided you with a good and trusted service then why change? True professional's will not want to lose loyal customers and will always be happy to discuss any problems or requests by their clients. So don't be afraid to ask!
Be safe and satisfied.
Jane:)