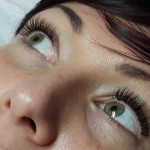 Russian volume lashes were introduced to the UK several years ago by Russian lash master Irina Levchuk who designed her own volume technique in Canada in 2013 for the North American tutorial market.  The technique is now becoming popular technique using the finest sized lashes available on the market to get the best effect.  Having been trained by an award winning Russian volume eyelash extension specialist it is clearly apparent the technique gives a much more fluffy appearance to the lashes than normal three D upwards classic volume technique.
The idea that Russian volume styles are all about long and heavy volume are not entirely true as the technique is easily adapted to using a combination of small and medium length lashes 0.07 to 0.05, such as 8, 9, 10, 11 mm lashes in a 3 to 4d, 5 to 6d.  Using an extension lash fanning technique before application gives a natural and full appearance without the dramatic mega volume look more suited to younger age market or for the use in photo shoots.
With classic style lashes using 0.25 and 0.20 becoming less popular the volume style lashes using lighter weight lashes of 0.10 to 0.05 diametre for multiple lash application are less harsh on natural eyelashes by reducing the weight of thicker lash extensions with addition of glue.  Classic lash application of 0.20mm with a natural lash count of 100 lashes would equal a full set of 100 synthetic lashes.  With volume application of 0.05mm 900 synthetic lashes might be applied to each eye for a 9 D definition.   My recommendation for multiple lash extensions would be 0.10, 0.07 or 0.05 diametre lashes for 2d to 3d application, 0.07or 0.05  diametre for 4d to 5d 0.07 or 0.05 and 6d to 9d 0.05.
Multiple application is  of course dependent on the condition and length of natural lashes as small, fine or weak lashes would not be suitable for multiple application and a classic 0.15 or 0.10 would be the better option for the well-being of the client's eyelashes.
Usable lash curls for volume lashes are between a B curl to a D curl with B having the least curl to D having the maximum curl.  See the image below.  Immediate bonding glue in small amounts is crucial to the Russian volume application as any slow bonding glues will not hold the synthetic lashes in a fan format, plus an inferior impact glue can produce a gloopy mass which will show up on a set and will add extra weight to the natural lashes.
To book a set of Russian volume eyelash extensions call Jane 07880 653076.  Or contact us.
Patch test required at least 48 hours prior to appointment.  Free 15 minute consultation