Hint of a Tint for Eyebrows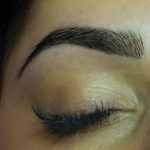 As fashion of clothes designs changes so does many beauty treatment trends change too.  We have seen the thick defined brows very much on trend for many years now with the 2008 established HD Brow brand technique leading the way for thick defined eyebrows which has been copied by many other high street and industry brands.  Although enhanced brows are still listed in salons there has been a definite change with the trend to be more natural, less bushy and defined brows and the increase in micro-blading now one of the most popular permanent choices to brow cosmetics moving in leaps- and- bounds.
I'm always ready to give advice about the best way to choose a good and experienced technician for the job by clients that ask my views on tattooing/micro-blading and I'm happy to pass on referrals.  I tend to suggest alternatives to them before taking they take the next step, as once the tattooing job is done there is no going back, so it's always an idea to try alternative treatments before making the move to more invasive permanent solution.
The most simple and cost effective start would be an eyebrow tint with a good brow reshape.  A client with thin, less shapely brows can achieve a more defined look giving the appearance of a fuller brow with something simple as a tint. The process will need upkeep as tints fade and brows regrow, but it's the first stage to finding out if a permanent solution to your brow problem is really what you want.
For those who want to top-up for a more defined look for evenings etc, then there are some really great wax and powder products on the market and I can thoroughly recommend Benefit's  Soft and Natural Brows for the job at a very reasonable price.
If you decide to try a tint and wax/thread reshape treatment always remember to make an appointment with an experienced professional, one who will ask you questions about the results you looking for and one who will patch test you before your treatment.  Also,  don't feel uncomfortable asking about products used and the process of the treatment.  A good rule of thumb is find out if the therapist tints and wax/threads, or if they wax/thread and tint, as the latter can cause a nasty allergic reaction and in some cases hospitalisation.  See images below of an eyelash extension client of mine who had a thread and then tint in a salon in Luton.  She went to hospital as the reaction from the treatment was severe.   Read my blog on how to choose a suitable therapist.
If you would like to get some advice about treatment for your eyebrows do contact me at 07880 653076.